What Your Percentile Ranking Means [转帖]
Your GMAT score includes a percentile ranking that gives you a measure of how your skill level compares with your peers'. GMAT percentile rankings look at the past three years of test-taker data and tell you how you match up.Percentile Rankings

The percentile rank of your score shows you the percentage of tests taken with scores lower than you for the most recent three-year period. Every year, each test taker's score is updated with the most recent year's percentiles.
Using a combination of GMAT scores, transcripts, work experience, essays, and interviews, admissions professionals strive to build strong, cohesive cohorts each year. Comparing each individual GMAT score with the most recent three years of test scores gives them a more complete picture of the b-school applicant pool.
Example

You achieve a Total score of 690, putting you in the 88th percentile. This tells you—and the schools you choose—that your Total score and skill level are greater than or equal to 88 percent of all GMAT test takers over the past three years.
Note: GMAT scores are valid for five years. Even though your score won't change, your percentile ranking might change when compared with a newer pool of applicants. Shifts tend to be gradual over long time periods.
Integrated Reasoning Percentiles

The Integrated Reasoning section was introduced on June 5, 2012, so the IR percentile rankings are updated more frequently to reflect the increasing pool of IR scores. Your scaled Integrated Reasoning score will not change, but as the section is introduced, your IR score percentile--on your electronic score report, on any additional score reports you order, on this page, and on the GMAT score reporting website accessible to schools--may change as more test takers sit for the exam.
The table below reflects the frequency with which the percentiles associated with your IR score may change.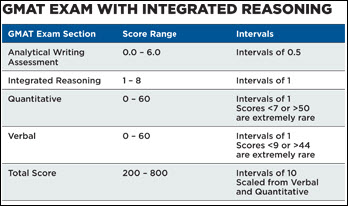 Integrated Reasoning Percentile Table, Effective June 2012
Percentile Rankings for Quantitative, Verbal, AWA, and Total Scores